SRS Information Pods. The public was invited to attend this free pilot information event focused on four SRS mission areas. Thursday, March 27, at the H. Odell Weeks Center in Aiken, SC...

Natural Gas to Fuel Cars - As part of his State of the Union Address, President Obama called for improved use of natural gas in transportation and industry. SRNL is doing it's part to promote this effort...

SRNL Innovation Contributes to Clemson University's Wind Turbine Drivetrain Testing Facility and Electrical Grid Simulator, the highest power experimental utility-scale facility in the world...

04.22.14 DOE-SR Contractor, SRNS, Presents $75,000 in SRNS Mini Grants to CSRA Teachers
04.01.14 SRNL Innovation to Keep the Country Charged
03.24.14 SRNS Employees Take Time Off to Team Up, Helping Those in Need throughout the Greater Aiken-Augusta Area
Click here for additional SRNS News Releases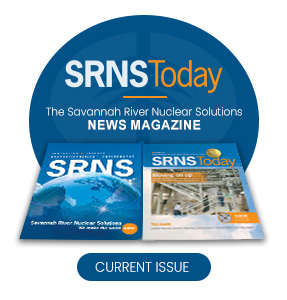 Click here for a Mobile friendly version