Page 4 - SRNS_Today_March_2021
P. 4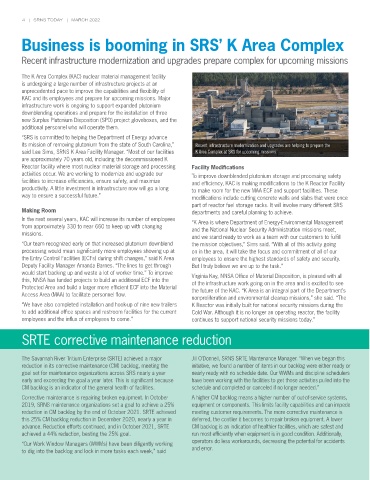 4   |   SRNS TODAY   |   MARCH 2021

        HB Line remote monitoring

        saves $1.8M annually


        SRNS employees in the HB Line and H Canyon facilities have
        implemented changes in monitoring the recently shutdown HB Line
        facility, utilizing existing resources and saving approximately
        $1.8 million annually.

        HB Line was placed in safe shutdown status in 2020 at the direction
        of DOE. Shutdown scope included inventory reductions and system
        and equipment shutdowns, allowing a reallocation of personnel by
        approximately 75% from the facility's 2017 high-pace operating   Donald Miles and Richard Mooney, Cascade Drilling Company, drill for soil samples.
        posture. However, because the facility layup was directed to be   Hansell Gonzalez-Raymat, SRNL, stands on the right.
        reversible, several safety and habitability systems remain operational
        and require routine surveillance and maintenance along with minimum   Protecting SRS wetlands
        staffing to facilitate operation and emergency response.
        To maximize cost avoidance, HB Line and H Canyon employees   SRNS has implemented cleanup technology that will reduce
        developed a revision to HB Line safety documentation to permit   radioactive iodine-129 found in soil and groundwater near the
        qualified and trained H Canyon shift operations managers and   center of SRS to levels well below regulatory limits. SRNS
        operators to fulfill the HB Line shutdown requirements. The team also   engineers are working with Savannah River National Laboratory
        evaluated measures allowing the facility to be monitored remotely.  (SRNL) scientists to accelerate this project.
        "We recognized early on that we could support the bulk of facility   Since 2019, the SRS environmental cleanup program has used an
        surveillance and maintenance activities with a days-only shift,"   innovative process developed by SRNS that uses silver chloride, a
        H Canyon Facility Manager Nick Miller said. "However, we also   conventional industrial product, to immobilize iodine-129.
        recognized leaving the facility unattended overnight wasn't an option,   Extensive studies confirm that where silver chloride was injected
        given the operating equipment and facility conditions. Our answer was   beneath a portion of the Site during pilot program field tests,
        to develop a remote monitoring program using cameras, allowing    iodine-129 has been reduced by up to 50%.
        H Canyon personnel to remotely monitor the HB Line facility at night."
                                                                "The silver can capture and lock into place a high percentage
        Installing the camera system in the HB Line control room and training   of the iodine nuclides, reducing the amount of contamination in
        H Canyon operators to monitor the camera while performing other   the groundwater," said Jeff Thibault, SRNS Area Cleanup
        duties allowed HB Line to be de-staffed during night shifts, resulting in   Projects Engineer.
        a reduction of shifts from four to two. Operators in the    Ultra-fine particles of silver chloride are specially milled to create
        H Canyon Outside Facilities were also trained to perform rounds in   highly irregular edges, greatly increasing their surface area. The
        the facility nightly to verify the safety of the facility and respond to any   material is mixed with water and injected into the water table 30
        abnormal conditions. This resulted in the reduction of approximately   to 60 feet below the surface. SRNS has injected 240,000 gallons
        14 positions in HB Line, saving approximately $1.8 million annually.   of water and 165 gallons of silver chloride.
        The impacted employees were transferred to other areas at SRS.
                                                                Currently, personnel are researching how to best treat and
        "The H Area team developed a creative solution and assumed more   immobilize the remaining iodine-129 to prevent it from migrating
        work responsibilities, all as part of a continuing effort to deliver value   in the form of a "plume" beneath SRS and into nearby wetlands.
        to DOE and taxpayers," Miller added. "I'm proud to be part of such a
        creative and capable team."                             Hansell Gonzalez-Raymat, SRNL geochemist, said workers
                                                                completed shallow drilling for soil samples in the affected
                                                                wetlands. "The data collected will help determine how the iodine
                                                                interacts with organic matter and surface water. This research will
                                                                lead to the development of a strategic treatment plan for
                                                                approval by the South Carolina Department of Health and
                                                                Environmental Control," he said. "This is part of a larger project
                                                                within the Site's F Area that is partially funded by DOE-EM
                                                                Technology Development."
                                                                Silver chloride cleanup technology generates no waste, which is
                                                                one of the most impressive aspects. "We want the entire system
                                                                to use little or no electrical energy," Thibault said.
                                                                "We're looking at the use of silver chloride, along with other
           A newly installed camera in the HB Line facility control room monitors   technologies, to continue the success we've experienced in
           control panels for alarms during nights.             protecting our wetlands," said Thibault.