Page 9 - SRNS_Today_April_2019
P. 9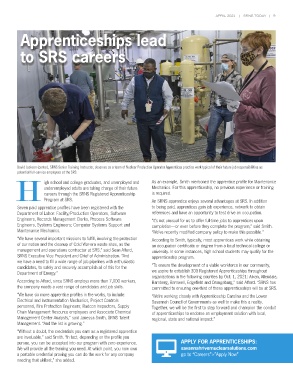 APRIL 2019    |   SRNS
                                                                                        APRIL 2019    |   SRNS TODAY   |   9TODAY   |   9



                  tudents from South Aiken High School recently
                  traded their classrooms for the waterways of
                  SRS as they participated in the SRNS Science
                  Technology Enrichment Program, or STEP.
           The students collected water samples and tiny aquatic
           creatures from the site's Fire Water Pond. Using
           biodiversity as a measure, they evaluated the health of the
           water and the volume of insects and animals living there.
           "SRNS offers several educational programs to area
           students at no charge," said Kim Mitchell, STEP Program
           Coordinator, SRNS Education Outreach. "However, this is
           the only program where the kids actually visit SRS. They
           get out into the woods and get their hands dirty enjoying
           environmental science projects."
           STEP is an SRS education outreach program which partners
           with the Ruth Patrick Science Education Center. In this   Students from South Aiken High School recently participated in STEP at SRS.
           program, students use techniques pioneered by the late
           Dr. Ruth Patrick, the first scientist to diagnose the health   Local students gain hands-on
           of a river or stream by studying plant and animal life.
           Students from local schools follow in the footsteps of Dr.   environmental science experience
           Patrick to collect vertebrate and invertebrate creatures,
           using biodiversity as a health indicator for freshwater
           ecosystems at SRS.                                  Stepping out
           Offered at SRS and at the Silver Bluff National Audubon
           Society, STEP provides hands-on opportunities through
           real-world, issue-oriented investigations.

           "For kids who are thinking about being a scientist, these   to STEP up
           experiments will help them truly understand what science
           is like out in the real world instead of just hearing about
           it in a classroom," said South Aiken senior Maggie Volk.
           "I think it's cool that the people putting all the effort into
           these activities really care about us and want to make this
           a good learning experience."
           "I've known for a while that I've wanted to be involved in
           marine biology and environmental science. This experience
           has really cemented that decision," said Melanie Fischer,
           a South Aiken senior.  "I've really enjoyed what we've been
           doing here today."



             A South Aiken High School
           student nets small creatures
             to learn more about fresh
                 water ecosystems.