Page 6 - SRNS_Today_December_2018
P. 6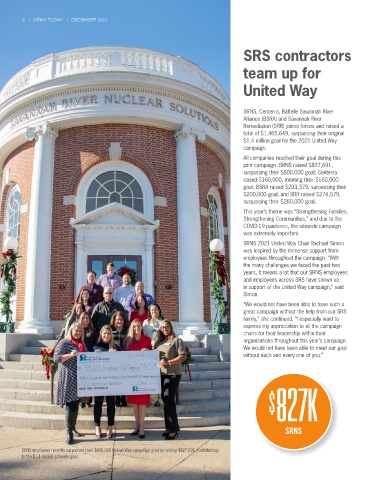 6   |   SRNS TODAY   |  DECEMBER  2018
                                      Making




        Christmas shine



                  a bit brighter






            17,000 gifts donated in 2018 SRS Toys for Tots campaign



            Nearly 400,000 toys have been collected since 1991 for area   toys. SRNS, Savannah River Remediation and Centerra provide
            children by SRS employees to benefit the annual Toy for Tots and   corporate monetary gifts to further add to the success of each
            Angel Tree campaigns.                                 year's toy drive.

            "We appreciate our partnership with the primary contractor   For the eighteenth year, employees sponsored the Salvation Army's
            companies at SRS," said Staff Sergeant Gregory Allen, U.S. Marine   Angel Tree program, enabling employees to adopt 625 area children,
            Corps. "Every year we're surrounded by an incredible number of toys   giving toys and clothing items specifically to Angel Tree recipients.
            and bikes during the SRS Toys for Tots celebration and truck loading   At the close of each year's SRS Toys for Tots celebration, trucks
            event. I'm continually amazed with the depth of their generosity."  full of presents leave the site, heading for multiple Salvation Army
            Supporting the Marine Corps Reserve's Toys for Tots and the   locations where the gifts will be sorted. Aiken Marines then distribute
            Salvation Army's Angel Tree program to benefit less fortunate   the gifts to children in Aiken, Allendale, Barnwell and Edgefield
            children in the Central Savannah River Area has been an important   counties, as well as the towns of North Augusta, Beech Island,
            tradition at SRS.                                     Belvedere, Williston, Salley and Couchton. The Marines from Augusta
            "It's such a thrill to think about all the children who will have a   supply toys to Burke, Columbia, Glascock, Hancock, Jefferson,
            special Christmas this year, that otherwise, without this campaign,   Jenkins, Lincoln, McDuffie, Richmond, Taliaferro, Warren, Washington
            would not have happened," said SRS Toys for Tots Chairperson and   and Wilkes counties and the town of Wrens.
            SRNS employee Natalia Johnson. "For me, this tells the story of
            what Christmas gift giving is truly about."
                                                                  PHOTOS: SRNS Toys for Tots Chair Natalia Johnson (left) and SRNS Toys for Tots Co-
            The SRS total contribution for the 2018 Toys for Tots Campaign   Chair Danielle Elliott are joined by SRNS President and CEO Stuart MacVean during
            was $30,000 in donations, which contributed to the purchase   the toy pickup on Dec. 6. Below, a sea of bikes, trikes, stuffed animals and toys of all
            over 17,000 toys and 400 bikes, in addition to the donated   types were donated by SRNS employees for area children.