Page 5 - SRNS_Today_July_2019
P. 5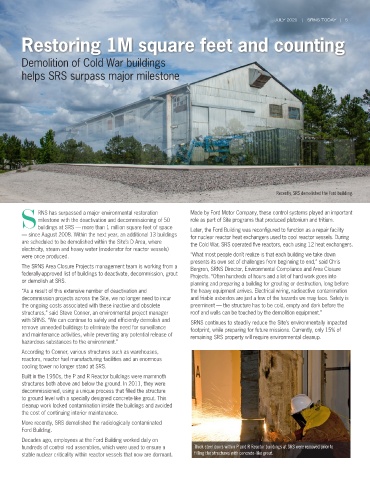 JULY 2019    |   SRNS TODAY   |   5

        K Area begins process optimization to support plutonium down blend



        SRNS recently began a process optimization initiative in the K Area
        Complex (KAC), which will reduce radiological exposure, improve
        process efficiency and align with long-term DOE plutonium down
        blend goals.
        "K Area is ramping up its capabilities in order to meet the needs of
        DOE," said Facility Manager Steve Wilkerson. "We are moving from
        one shift to two shift operations, with the plan of being at four shifts
        by 2021."
        Currently, all plutonium down blending is done inside the K Area
        Interim Surveillance glovebox. A glovebox is a stainless-steel box
        with safety glass panels. It has fitted glove-port openings to allow
        contaminated materials handling, and shields and separates workers
        from associated hazards. KAC employees found that modifications to
        the glovebox could help make the process smoother. Some of these
        improvements included:
        •  A new wing cabinet installed on the side of the glovebox, which
          allows for easier introduction of material in the glovebox through a
          breechlock, compared to bagging in material through a smaller port
                                                                 The KAC new mockup glovebox
        •  Specially designed blend can carts, which will roll the heavy
          canisters holding the material through the glovebox   To ensure employees are trained and proficient at the new procedures,
                                                                KAC built a new mockup glovebox, which is housed in a clean
        •  A new six-inch bagport for bagging out blend cans from the   environment. Not only does the new mockup incorporate the process
          glovebox, which will also reduce the amount of transuranic   optimization items, it is also made of aluminum, making it sturdier than
          waste generated
                                                                the previous wooden version.
                     TM
        •  New CrimpLoc   tools for bag closure
                                                                "We are on track to have process optimization complete by spring of
        •  Relocating tools inside the glovebox to allow for one pass through   2020," said DOE Nuclear Materials Manager Maxcine Maxted. "These
          of the material as compared to the previous method, which required   improvements required a lot of planning and work to complete, but will
          several passes through the glovebox to complete downblend.  result in a safer, more efficient process."
        Williams provides perspective on nuclear careers to ATC students



        SRNS recently co-sponsored a                            SRNS Director of Radiological Protection Kent Williams, a
        nuclear education information                           keynote speaker, gave attendees an employer's perspective
        session at Aiken Technical                              of the program. Williams discussed the growing need for an
        College (ATC) to educate                                educated nuclear workforce and the tremendous impact the
        students on ATC's radiation                             ATC program has had on providing these workers for SRS.
        protection technology program                           "The fundamentals of this program are invaluable to our
        and promote nuclear careers.                            company. We find that the employees who come out of this
        The radiation protection                                program are extremely knowledgeable in their field and well-
        technology program, which                               versed in the Site's safety culture," said Williams.
        began in 2008, teaches students                         ATC nuclear education alumni SRS Radiological Protection
        how to minimize radiation                               Front Line Manager Kristin Brant and Radiological Protection
        exposure, perform surveys for   Kent Williams           Inspector Josh Cash, spoke about how the program prepared
        radiation and contamination, and                        them for a career with SRNS.
        analyze data. At the completion of the program, students earn
        an Associate in Applied Science degree and certifications in job   The Workforce Opportunities in Regional Careers grant is one
        site safety and nuclear fundamentals. Additionally, students are   of many financial aid options for nuclear education. NNSA
        required to participate in internship programs that give them the   Administrator Lisa Gordon-Hagerty recently announced a
        hands-on experience necessary to manage radiation control in   $5 million NNSA contribution to CSRA schools to develop the
        the nuclear and power industries.                       future SRS workforce.