Page 3 - SRNS_Today_January_2021
P. 3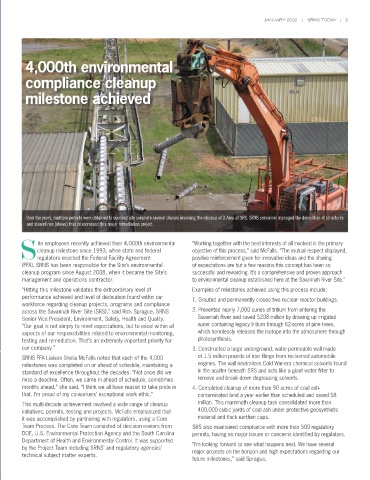 JANUARY 2021    |   SRNS TODAY   |   3


        Exemplary cleanup at SRS


        Despite the significant impacts of COVID-19, SRNS completed six
        major environmental cleanup projects and two smaller projects at
        Savannah River Site (SRS) in 2020.
        "The fact that we were recognized by the Department of Energy
        (DOE) with the prestigious Project Management Excellence Award
        in July speaks volumes in and of itself," said Stuart MacVean. "This
        award, combined with the safe and successful completion of multiple
        cleanup projects this year, reflects the priority and importance we
        place on environmental remediation at SRS. In addition, all this was
        accomplished while overcoming the issues and obstacles presented
        by the pandemic."                                          Engineers Will Jolin, John Bradley and Joao Cardoso-Neto discuss a plan to move
        The DOE award was presented for consolidating more than 400,000   equipment (background, Remote Facility Operator Richie Andrews).
        cubic yards of coal ash, fully capped under geosynthetic material and
        a thick earthen cover. The vast project was completed more than a   SRS project moves from
        year ahead of schedule, with a cost savings of $9 million.
        The major environmental cleanup projects completed in 2020 include:  cleanup to closure
        • Demolition of a large radiologically contaminated building built   Nineteen soil remediation units at SRS will soon have their solar
          during the Cold War                                    power "plugs" removed, resulting in an annual cost savings of
                                                                 $90,000 a year, as the need for these remediation systems has
        • Construction of an underground wall made of recycled iron filings   come to an end at the A-Area Rubble Pile soil and groundwater
          that naturally treats Cold War-era chemicals as contaminated   cleanup project.
          groundwater flows through the structure                SRNS has completed this project involving an earthen pit that was
                                                                 developed in the 1950s to dispose of nonradioactive construction
        • Remediation of a 12-acre coal storage yard by mixing 1,000 tons of   debris, ash and liquid cleaning products. Nineteen systems were
          naturally occurring limestone into the soils to neutralize the acidic   installed to "vacuum" low concentrations of commonly used
                                                                 degreasing solvents from the soil below. Recent soil sampling
          soils below
                                                                 demonstrated that the solvents no longer pose a potential threat to
        • Demolition of radioactively contaminated structures, known as   the environment cleanup, according to Will Jolin, SRNS Engineer.
          "Treblers," formerly used to measure the flow of hazardous   "Early cleanup at this location concentrated on using aggressive
          wastewater and obtain sample data                      methods to remove the contaminants from the subsurface and
                                                                 prevent them from migrating to the groundwater," said Joao
        • Remediation of a multi-acre pond-like basin built during the Cold   Cardoso-Neto, SRNS Project Manager. Cardoso-Neto noted that
          War by placing a protective cover to safely secure any remaining   these cleanup technologies required the use of large electric
                                                                 pumps, support facilities and monitoring equipment.
          contaminated soil
                                                                 Over the years, this highly mechanized and costly method
        "We have a talented and resourceful workforce at SRNS who prove   has removed large quantities of solvent; however, SRNS has
        time and again they have what it takes to get the job done safely and   transitioned to more environmentally-friendly passive microblowers.
        efficiently, often ahead of schedule and under budget," said MacVean.
        "I'm looking forward to our cleanup accomplishments in 2021."  Microblowers generate a natural vacuum to exhaust the chemical
                                                                 vapors. Each unit requires only 20 to 40 watts of solar power to
                                                                 run its primary component, a compact, high-speed fan. During
                                                                 a 10-month test, a single unit removed 234 pounds of solvent
                                                                 compounds from the subsurface.
                                                                 The 19 microblower units have succeeded in removing the
                                                                 remaining trace amounts of solvent, within limits set by the South
                                                                 Carolina Department of Health and Environmental Control and the
                                                                 U.S. Environmental Protection Agency.
                                                                 Approximately 1.5 acres were impacted by this cleanup and closure
                                                                 project near a part of the Site designated as A Area.
          Workers mixed more than a million pounds of iron filings with a food-grade, starch-
          like material, shown here. The material was injected into 22 wells at  SRS to create   "With the closure of this project, we can shift the resources, such
          a long and continuous iron wall that acts as a giant metal filter of contaminated   as solar panels, to other areas at SRS that still require remediation,"
          groundwater.                                           said John Bradley, SRNS Engineer.