Page 7 - SRNS_Today_January_2019
P. 7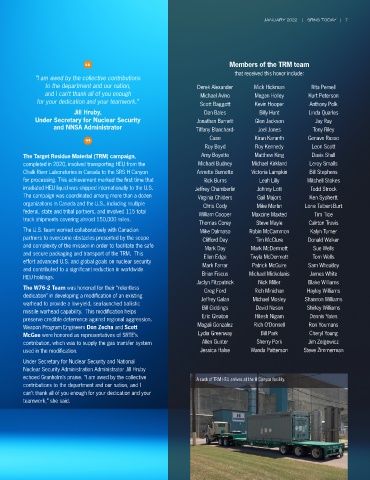 JANUARY 2019    |   SRNS TODAY   |   7JANUARY 2019 | SRNS TODAY | 7

        Aiken Area Home Educators team

        walks away with Future City win

        for model city of tomorrow


        Earthquakes, tornadoes and hurricanes damage public utilities within
        towns and cities throughout the world each year, severely disrupting
        every aspect of life. During this year's S.C. Regional Future City
        competition, middle school students from South Carolina and the greater
        Augusta, Ga. area, responded to this challenge by designing an electrical
        grid that could withstand and quickly recover from a natural disaster.
        "Designing a city of the future is a difficult task for anyone, much less
        a middle school student," said Taylor Rice, SRNS Education Outreach.
        "Requiring an effective way to protect a city-wide electrical grid would be
        a significant task for those studying engineering in college. The Future
        City competitors used creativity, imagination and ingenuity to create
        resilient cities with connected systems and a robust infrastructure in
        place to limit damage and help the city quickly recover."
        Each team of three students worked together to create their virtual city    SRNS IT supports
        using SimCity™ software during the first phase of the competition. This
        was followed by a 1,500-word essay describing the city in detail, followed   LEGO qualifying tournament
        by actually building a table-top model using recycled materials.
                                                                        SRNS IT employees provided key coordination and
        First place honors went to "Urbe Grafito," Aiken Area Home Educators,                               ®
        with second place going to "Grelean City," St. Mary on the Hill Middle   operational support throughout the recent FIRST
                                                                            ®
        School, Augusta, Ga. "Rubalexia," Paul Knox Middle School, North   LEGO  League Regional Qualifying Tournament.
        Augusta, S.C., took third place.                                Seventeen teams comprised of more than 190
                                                                        students met at Chukker Creek Elementary School in
        SRNS Education Outreach personnel have managed the Future City
        competition for 16 years, in partnership with the Ruth Patrick Science   Aiken, S.C., for the tournament. The theme was "Into
        Education Center at the University of South Carolina Aiken campus  Orbit," and focused on long-term space travel.
                                                                        "It is great to see the generosity and willingness of our
        This year's celebrity judges for the final round of competition included
        Bruce A. Easterson, SRNS Senior Vice President, Chief Engineer and   IT employees to volunteer for events outside of work,"
        Nuclear Safety Officer; Dennis Carr, SRNS Executive Vice President and   said tournament director and SRNS employee Tim
        Chief Operating Officer; and Rosalind Blocker, Executive Advisor to the   Arnold. "With the contribution of $1,500 from SRNS,
        Deputy Laboratory Director for Savannah River National Laboratory.  we were able to continue our community outreach
                                                                        efforts and show support for STEM-based education."
                                                                        Students in grades four through eight designed, built
                                                                        and programmed a LEGO Mindstorms robot, which
                                                                        included creating innovative solutions to improve the
                                                                        health and well-being of astronauts during extended
                                                                        space travel. Students then presented their solutions
                                                                        to a panel of judges, which was composed of SRNS IT
                                                                        employees.
                                                                        The FIRST LEGO League focuses on solving real-world
                                                                        problems such as food safety, recycling, energy and
                                                                        more, using STEM concepts plus a big dose of fun.
                                                                        FIRST LEGO League is an alliance between FIRST and
                                                                        the LEGO Group.






        Students representing Aiken Area Home Educators attempt to persuade Future City
        competition judges that their model city deserves first place during the daylong event at the
        University of South Carolina Aiken. This team went on to win the regional competition, earning
        a trip to the finals in Washington, D.C.