Page 9 - SRNS_Today_January_2021
P. 9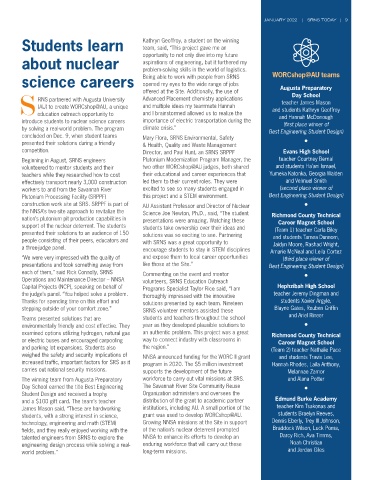 JANUARY 2021    |   SRNS TODAY   |   9
        Reducing the footprint in F Area




        SRNS has made significant progress in decommissioning the legacy   project team transitioned in May 2020 to deactivating the facility.
        facilities in an area of the Site known as F Area with recent work   Deactivation will place the facility in a stable configuration for long-
        completed in Building 235-F and the F/H Analytical Laboratory.  term safe storage until the eventual decommissioning.
        "The entirety of legacy facilities in F Area are expected to be placed   SRNL has performed analytical sampling from radiochemical
        in surveillance and maintenance mode by 2024," said Stuart   processing and radiological environmental monitoring programs
        MacVean. "Along with F Canyon, which was partially deactivated   at facilities across the Site for over 55 years, utilizing one of the F
        before SRNS took over the prime contract, closing down these two   Area legacy facilities, the F/H Analytical Laboratory. SRNL used the
                                    additional facilities will make   analytical laboratory in F Area to support analyses on a wide range
                                    a big impact on reducing our   of matrices, such as soil, water, gases, foodstuffs, decommissioning
                                    operational footprint."      debris, waste, process control, accountability, nuclear safety and
                                    Since late 2012, SRNS        industrial hygiene samples.
                                    has been executing DOE's     To reduce costs and streamline capabilities, SRNS and SRNL are
                                    Implementation Plan for      nearing the end of a multi-year project to relocate analytical services
                                    Defense Nuclear Facilities   and methods from SRNL's analytical laboratory facilities in F Area to
                                    Safety Board Recommendation   SRNL's main laboratory in A Area, several miles away. This will save
                                    2012-1 to reduce the hazards   millions annually in facility costs and provide for closure of F Area
                                    associated with the material   legacy facilities. By the end of January, all 59 laboratory methods
                                    at risk, namely plutonium,   will have been relocated and established in A Area. Deactivation of
                                    that remains as residual     the legacy F/H Laboratory will begin in FY2021 and is scheduled to
        Aerial view of F Area. Building 235-F is   contamination in Building 235-F.   be complete in FY2024. Already, 21 laboratories have been taken
        highlighted in yellow, the F/H Analytical   Building 235-F was part of the   out of service in the F Area Analytical facilities no longer in use, and
        Laboratory facilities in orange and F Canyon/  original construction at SRS   a number of gloveboxes have also been cleaned out to accelerate
        FB Line in purple                                        deactivation activities next year.
                                    in the early 1950s and was
                                    utilized for several production    "I am proud of the safe manner that SRNS has conducted this work,"
        missions throughout its operational life, each of which has left a   said MacVean. "Cleaning up from a legacy of nuclear materials work
        stamp on the robust facility. Its operations have benefited the nation's   is a long process and involves coordination between DOE, SRNS,
        defense, NASA and DOE. SRNS reduced risk at 235-F by removing   state and federal regulators. We pride ourselves on delivering on our
        residual plutonium contamination to lessen risks to co-located   environmental commitments and this work is just another example of
        workers. With the risk reduction portion of the project complete, the   how we make the world safer."
        On-site rapid testing strengthens SRS' COVID-19 response




        COVID-19 has challenged SRS employees to develop and enact
        stringent health protocols to protect the workforce from virus
        transmission. In 2020, the SRNS-led SRS Infectious Disease
        Response Team (IDRT) organized a response effort that included
        full-time monitoring of local, regional and national data and led the
        implementation of sitewide guidelines to address changing conditions.
        To further strengthen COVID-19 mitigation efforts, the SRS IDRT
        launched COVID-19 rapid testing to provide additional opportunities
        for on-site personnel. In addition to rapid testing, independent testing
        made possible through a partnership with Augusta University Health
        (AU Health) was previously launched in the summer of 2020.
        Since on-site rapid testing began in November, 406 voluntary rapid
        tests have been administered to Site employees. This service has also   SRNS implemented on-site rapid testing for SRS employees in November.
        made COVID-19 testing more accessible to employees who plan to
        travel or those who are concerned that they may have been exposed in   easily accessible test results, providing them peace of mind when it is
        a public setting.                                        needed most," said Brenda Mills, SRNS Site Medical Director.
        "The SRS rapid testing program has provided Site personnel with   The SRS rapid testing program is capable of testing 18 employees
        reliable test results in approximately 15 minutes. Since the program's   per day, in addition to the 52 daily test capability provided at the
        inception on Nov. 23, 18 asymptomatic cases of COVID-19 have been   SRS testing location independently operated by AU Health, which has
        identified and quickly quarantined, while others have been afforded the   conducted 7,198 tests for SRS employees since June.