Page 5 - SRNS_Today_May_2019
P. 5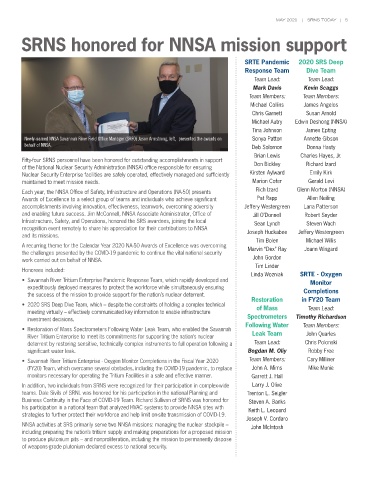 MAY 2019    |   SRNS TODAY   |   5

                                                                Fishing event at SRS

                                                                honors wounded warriors,


                                                                mobility impaired



                                                                 DOE and U.S. Forest Service personnel from SRS, working with the
                                                                 National Wild Turkey Federation (NWTF), recently held the fifth annual
                                                                 Ultimate Fishing Challenge at SRS to honor our nation's wounded
                                                                 warriors and mobility-impaired residents from throughout the region.
                                                                 "We have a wide variety of natural resources at SRS that we can share
                                                                 from time to time with members of those groups who have risked
        SRSFD's new ladder truck provides increased safety benefits and cost savings.
                                                                 their lives for us, such as our military veterans and first responders,"
        New ladder truck                                         said Tony Towns, DOE Natural Resources Program Manager. "Along
                                                                 with our annual Wounded Warrior Deer Hunt and SRS Ultimate
                                                                 Turkey Hunt, this fishing event is one more way we can express our
        adds versatility to                                      appreciation for their service to our country."
                                                                 Recently, dozens of military veterans wounded in combat and U.S.
        SRSFD capabilities                                       citizens with serious mobility issues enjoyed hours of fishing on a lake
                                                                 at SRS, appreciating the near-wilderness conditions.
                                                                 Army veteran Jeffrey Lanier, a former Apache Helicopter Crew Chief
                                                                 in Afghanistan and current SRNS employee, said, "This is a once-in-a-
        The SRS Fire Department (SRSFD) recently purchased a new   lifetime experience that makes you not want to fish anywhere else. I
        2018 Pierce 100-foot Velocity ladder truck as a part of their fleet   really appreciate this opportunity."
        replacement project. The ladder truck meets all applicable National
        Fire Protection Association codes for ladder safety and design.  The catch-and-release fishing contest was held May 18 and ended with
                                                                 a cookout and awards ceremony for the two largest fish caught, as
        The new ladder truck offers versatility in reaching both high and low
        spaces, supporting elevated rescue operations as well as having the   well as the single largest fish presented at the weigh-in. The record for
        capability of reaching approximately 20 feet below ground surface.   a single fish caught since the inception of this event is 10.4 pounds.
        This ability makes it possible to reach someone in distress using a   The participants are chosen through a lottery system administered
        ladder or bucket attachment in locations that may have been more   by NWTF personnel at their office located in Edgefield, S.C. More
        challenging to access in the past.                       than 80 applications were received for this year's competition, with
                                                                 25 being selected.
        Compared to previous models, the new truck is equipped with several
        features that will simplify processes and increase safety. Such features
        include airbags, air rod suspension, capacity to hold more equipment,
        and enhanced lifting capabilities, which allow the basket to hold 1,000
        pounds compared to the old ladder truck that held 750 pounds.
        Not only does this addition to the fleet provide on-site benefits but it
        can also be used to respond to emergencies in the surrounding six
        SRS mutual-aid communities.
        "SRNS holds the safety of SRS employees and citizens in our
        surrounding communities as a core value," said Rick Sprague, SRNS
        Senior Vice President, Environmental, Safety, Health and Quality. "In
        the event of an emergency, the SRS fire fighters and their equipment
        must be ready to respond to a variety of unique facilities and
        environments quickly and effectively. The upgrades completed within
        the SRS emergency fleet give our emergency responders improved
        resources when seconds count."
        In addition to the new ladder truck, two new fire trucks have been
        purchased, all SRS ambulances have been remounted and the
        site is scheduled to get another rescue and HAZMAT truck in the
        coming years.                                               SRNS employee and veteran Jeffrey Lanier (right), a former Apache Helicopter Crew
                                                                  Chief in Afghanistan, and his brother Ronald, each hold a large bass caught during
        Since arriving on site on April 1, SRS's newest ladder truck has   the SRS Ultimate Fishing Challenge.
        already responded to one call for mutual aid in the local community.