Page 5 - SRNS_Today_May_2021
P. 5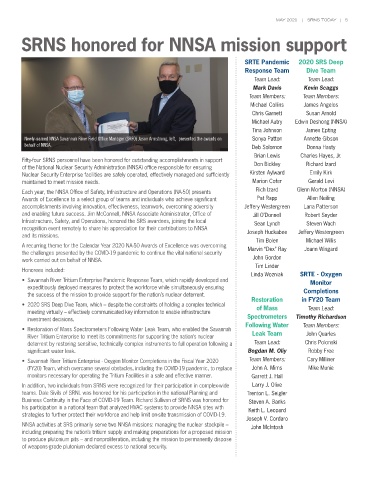 MAY 2021    |   SRNS TODAY   |   5

        SRNS honored for NNSA mission support



                                                                                  SRTE Pandemic     2020 SRS Deep
                                                                                  Response Team       Dive Team
                                                                                     Team Lead:        Team Lead:
                                                                                     Mark Davis       Kevin Scaggs
                                                                                   Team Members:     Team Members:
                                                                                    Michael Collins   James Angelos
                                                                                    Chris Garnett     Susan Arnold
                                                                                    Michael Autry  Edwin Deshong (NNSA)
                                                                                    Tina Johnson      James Epting

         Newly-named NNSA Savannah River Field Office Manager (SRFO) Jason Armstrong, left,  presented the awards on   Sonya Patton  Annette Gibson
         behalf of NNSA.                                                            Deb Solomon       Donna Hasty
                                                                                     Brian Lewis    Charles Hayes, Jr.
        Fifty-four SRNS personnel have been honored for outstanding accomplishments in support
        of the National Nuclear Security Administration (NNSA) office responsible for ensuring   Don Bickley  Richard Izard
        Nuclear Security Enterprise facilities are safely operated, effectively managed and sufficiently   Kirsten Aylward  Emily Kirk
        maintained to meet mission needs.                                            Marion Cofer      Gerald Levi
        Each year, the NNSA Office of Safety, Infrastructure and Operations (NA-50) presents   Rich Izard  Glenn Morton (NNSA)
        Awards of Excellence to a select group of teams and individuals who achieve significant   Pat Rapp  Allen Neiling
        accomplishments involving innovation, effectiveness, teamwork, overcoming adversity   Jeffery Westergreen  Lana Patterson
        and enabling future success. Jim McConnell, NNSA Associate Administrator, Office of   Jill O'Donnell  Robert Snyder
        Infrastructure, Safety, and Operations, honored the SRS awardees, joining the local   Sean Lynch  Steven Wach
        recognition event remotely to share his appreciation for their contributions to NNSA    Joseph Huckabee  Jeffery Westergreen
        and its missions.
                                                                                      Tim Bolen       Michael Willis
        A recurring theme for the Calendar Year 2020 NA-50 Awards of Excellence was overcoming   Marvin "Dex" Ray  Joann Wingard
        the challenges presented by the COVID-19 pandemic to continue the vital national security
        work carried out on behalf of NNSA.                                          John Gordon
                                                                                     Tim Linder
        Honorees included:
                                                                                    Linda Wozniak   SRTE - Oxygen
        •  Savannah River Tritium Enterprise Pandemic Response Team, which rapidly developed and        Monitor
          expeditiously deployed measures to protect the workforce while simultaneously ensuring
          the success of the mission to provide support for the nation's nuclear deterrent.          Completions
                                                                                    Restoration      in FY20 Team
        •  2020 SRS Deep Dive Team, which – despite the constraints of holding a complex technical   of Mass   Team Lead:
          meeting virtually – effectively communicated key information to enable infrastructure
          investment decisions.                                                    Spectrometers   Timothy Richardson
                                                                                  Following Water    Team Members:
        •  Restoration of Mass Spectrometers Following Water Leak Team, who enabled the Savannah
          River Tritium Enterprise to meet its commitments for supporting the nation's nuclear   Leak Team  John Quarles
          deterrent by restoring sensitive, technically complex instruments to full operation following a   Team Lead:   Chris Polonski
          significant water leak.                                                  Bogdan M. Oliy      Robby Free
        •  Savannah River Tritium Enterprise - Oxygen Monitor Completions in the Fiscal Year 2020   Team Members:  Cary Milliner
          (FY20) Team, which overcame several obstacles, including the COVID-19 pandemic, to replace   John A. Mims  Mike Munie
          monitors necessary for operating the Tritium Facilities in a safe and effective manner.  Garrett J. Hall
        In addition, two individuals from SRNS were recognized for their participation in complex-wide   Larry J. Olive
        teams. Dale Sivils of SRNL was honored for his participation in the national Planning and   Trenton L. Seigler
        Business Continuity in the Face of COVID-19 Team. Richard Sullivan of SRNS was honored for   Steven A. Banks
        his participation in a national team that analyzed HVAC systems to provide NNSA sites with   Keith L. Leopard
        strategies to further protect their workforce and help limit on-site transmission of COVID-19.
                                                                                  Joseph V. Cordaro
        NNSA activities at SRS primarily serve two NNSA missions: managing the nuclear stockpile –   John McIntosh
        including preparing the nation's tritium supply and making preparations for a proposed mission
        to produce plutonium pits – and nonproliferation, including the mission to permanently dispose
        of weapons-grade plutonium declared excess to national security.